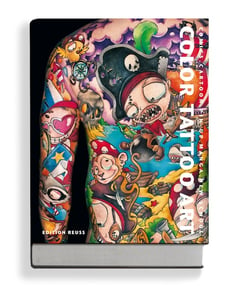 $

99.00 - On Sale
*ON SALE: $99 (originally $199)*
COLOR TATTOO ART presents 42 of the world's best tattoo artists for Comics, Cartoon, Pin-Up, Manga and New School. The book is dedicated to graphic, animated tattoos as well as the fine art of tattooists. Many of the impressive color tattoos are shown full page. In addition, you will find a rich selection of sketches, paintings and artwork.
Today the color tattoo styles are blurring and evolving at a great pace, these highly saturated color bombs are moving in different directions, defying easy classification with a catchy title. Color Tattoo Art is a wondrous and wild ride around the world and a great source book to inspire your own imagination.
Tattoo artists in this book: Joe Capobianco, Genko, Fred Laverne, Bammer, Daveee, Woodpecker, Josh Woods, Steph D., Dimitri, Gunnar, Kristel Oreto, Eva Schatz, Jime Litwalk, Kowhey, Broda, Slawek, May, Tony Ciavarro, Tiraf, Holly Azzara, Ed Perdomo, Jee, Ulrich Krammer, King Rat, Leo, Joako, Sean Herman, Naoki, Fide, Electric Pick, Leah Moule, Jesse Smith, Morof, Jason Stephan, Kozuru, Ivana, Dave Fox, Gerrit Termaat, Peter Bobek, Scott Olive, Kosei, Olivier. 580 images printed in full color. Texts in English, German, French.
More info here:
http://www.needlesandsins.com/2011/06/found-in-the-monster-hardcover-art-book-color-tattoo-art-comics-cartoon-pin-up-manga-new-school.html