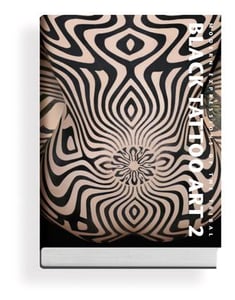 $

130.00 - On Sale
Black Tattoo Art II: Modern Expressions of the Tribal:
Hardcover
448-pages
600+ images and text
7.7 lbs
Trim size: 9.8 x 12.5
Offered at the author's reduced price of $150. Originally $199.
More info:
This second incarnation of what has been deemed the "Bible of Blackwork Tattoos," continues the first volume's photographic journey across the globe, showcasing the absolute best of tattoos that capture the magic of the ancient art form in exciting contemporary interpretations on the body. Within the 448-pages of this massive tattoo tome, readers will explore particular movements in tattoo art that, much like most indigenous tattooing, are more decorative and less literal; elaborate patterns predominate; harmony and flow with the body is paramount; and the color palette is primarily black--hence, the name Black Tattoo Art. This second volume follows the direction of the first, but takes it even farther.
The most important addition to Black Tattoo Art II is the greater roster of international artists: 75 top tattooists from Saint Petersburg to Sao Paolo, Austin to Aotearoa, Barcelona to Brooklyn and beyond. They share their creativity, innovation, and spirit in presenting images of their tattoo and fine art work for this book. There are also more hand poked and tapped tattoos represented, and an entirely new chapter has been added celebrating Nordic and Celtic-inspired art. Along with the "Celtic/Nordic" works are those that fall under the chapters of "Dotwork," "Ornamental/Neotribal," "Abstract/Art Brut," and "Traditional Revival."
Tattoo artists represented in this book: Tomas Tomas, Leo Zulueta, László Kis, Christophe Souloumiac, Roxx 2Spirit Tattoo, Daniel DiMattia, Jun Matsui, Nazareno Tubaro, Bong Padilla, Rory Keating, Colin Zumbro, Andreas "Curly" Moore, Rob Deut, Mikel Johnson, Mike The Athens, Christos (Christ)Zacharopoulos, Psychopat, Gerhard Wiesbeck, Hellenic Stixis, Calen Paris, Jacqueline Spoerlé, Chris Higgins, Phil Cummins, Patrick Hüttlinger, Tim Hunt, Jared Leathers, Dmitry Babakhin, Xed LeHead, Corson Hayes, Cory Ferguson, Tomas Tomas, Jondix, Vincent Hocquet, Daniel DiMattia, Nazareno Tubaro, Thomas Hooper, Galdo Marco, Matt Black, Delphine Noiztoy, Damien Voodoo, Amanda Ruby, Tattoo Pink, Nathan Kostechko, Gerhard Wiesbeck, Goldilox, Garcia Leonam, Kenji Alucky, Colin Dale, Kai Uwe Faust, Pat Fish, Dimon Taturin, Marianne Sundby, Eric Sundby, Fiumix, Kari Kjelskau, Raffaella Olomhè Ricci, Tor Ola Svennevig, Rory Keating, Zele, Simone Pfaff, Volko Merschky, Noon, idexa stern, Little Swastika, Cammy Stewart, Jef, Cy Wilson, Cy Wilson and Caro, Ran "Ruiner" Maclurkin, Leon Lam tattoo, Loïc aka Xoïl, Yann, Elle Festin, Zel Festin, Tomasi Sulu'ape, Lard Yao Peter, Brent McCown, Durga, Jeremy Lo, Sulu'ape Pili Mo'o.
FOR SHIPPING OUTSIDE THE US, PLEASE CONTACT MARISA@NEEDLESANDSINS.COM FOR SHIPPING RATES.